Chiropractic Care
Chiropractic care is designed to restore balance and function to your nervous system, helping your body work just as it was designed to.
Today's modern life can easily cause dis-ease in the body, often as a result of technology and posture problems.
This can affect not just our health, but our happiness, too. In teens, it can interfere with confidence and even school work.
Dr Pieter is proud to offer focused, natural and effective chiropractic adjustments for patients of all walks of life. In his care, patients have overcome problems like:
Our Techniques
Dr Pieter understands that every patient is unique-here, you'll never get a 'cookie cutter' approach to your care. Instead, he'll listen to your concerns and analyze exactly what your body needs to thrive and get better.
He's happy to offer techniques including:
Diversified manual adjusting
Thompson, a low force technique
Soft tissue percussion therapy
Shoulder relief technique
Myofascial release
Certified by the American Posture Institute
Dr Pieter recently obtained certification with the American Posture Institute, giving him the necessary credentials and knowledge to effectively correct postural problems naturally through a focused, custom care plan.
In addition to adjustments, posture correction may entail specific exercises and stretches as well as rehabilitation you can do in the practice as well as in the comfort of your own home.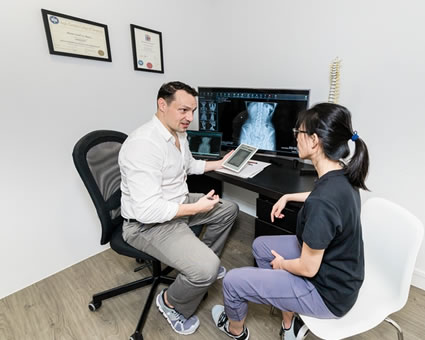 Nervous? You're in Good Hands
Dr Pieter understands the importance of helping patients relax and feel comfortable in his care. When you're with him, he'll always explain what he's about to do and ask your permission before doing so-this way, you'll be fully prepared. His techniques are always gentle and focused to what your body needs.
Frequently Asked Questions
The New Patient Experience is $150 (additional charges may be required if full spine X-rays are needed). Each Standard Chiropractic Session – Follow Up Visit is $100. Find out more about our fees and packages.
How long is the first visit – the New Patient Exam?
The first visit is divided into 2 parts. The first takes up to 1 hour and the second up to 1 hour. Regular visits are much more time-efficient.
How long is a regular session?
The average visit time is about 20-30 minutes. Some may be longer depending on the case. Some patients simply want to come in and get adjusted and return to their day. If that's your preference, please know we value your time. An adjustment can be done within 10 minutes.
No, not at all. Dr Pieter provides gentle chiropractic care. He will focus on what your body needs. If you do come in with pain, treatment will not be more painful.
How does a chiropractor differ from an osteopath?
There's a massive overlap between the two professions. Although much is the same, at the extreme ends of either one they can be very different. Even within chiropractic, there's going to be a huge variation in style and treatment. Dr. Pieter has a large French community of patients who are much more familiar with osteopathy than chiropractic.
"It all depends on what type of practitioner you had before. As a chiropractor, I focus on the spine as the foundation. There will be some overlapping techniques with stretches into the neck, into the head and into the muscles that many osteopaths use," said Dr Pieter.
How do I know if I should see a chiropractor or a physiotherapist?
If you have general back pain or headaches, neck pain, stiffness, tension, old sprains and injuries, or mobility issues, those can be addressed by a chiropractor. Dr Pieter sees lots of sports injuries and can help with those. If there's been significant trauma, and you're under the recommendation of a doctor or hospital, and you need to physically rehab something, then a physio might be the right choice for a very particular injury.
How many sessions will I need until I feel better?
As every patient is different, there's no one answer. Dr Pieter's goal is to get you to a new baseline where you're happy as quickly as possible. Then if you wish to maintain a healthy spine, that's another discussion and decision you have to make further down on your pain-free journey. We also look at various factors to assess how long it will take to feel better. These include
Are you sedentary or active?
Are you old or young?
Do you have young kids at home?
Are you stressed?
Are you looking at a screen 12 hours a day?
Do you eat too much junk food?
Are you taking medications?
Do you have a family history of certain diseases or conditions?
Other than an adjustment, what will my visits include?
Sometimes Dr Pieter will do the adjustment and then spend some time working on the neck and head. He will also address the muscles in the back by gently stretching, distracting, and opening up the spine. Dr Pieter will also do some percussion massage with the machine to stimulate the cerebellum to get some blood flowing to the area, which promotes movement throughout the spine.
Discover How We Can Help
We'd love the chance to meet you and help you unlock your true health potential, naturally. To get started, contact SpinePro Chiropractic today to book a visit. We look forward to welcoming you into our care.
CONTACT US »
Chiropractic Care | +65 6816 9087