Chiropractic Care
Chiropractic care is designed to restore balance and function to your nervous system, helping your body work just as it was designed to.
Today's modern life can easily cause dis-ease in the body, often as a result of technology and posture problems.
This can affect not just our health, but our happiness, too. In teens, it can interfere with confidence and even school work.
Dr Pieter is proud to offer focused, natural and effective chiropractic adjustments for patients of all walks of life. In his care, patients have overcome problems like:
Headaches
Back pain
Neck tension
Shoulder problems
Postural issues
And more
Our Techniques
Dr Pieter understands that every patient is unique-here, you'll never get a 'cookie cutter' approach to your care. Instead, he'll listen to your concerns and analyze exactly what your body needs to thrive and get better.
He's happy to offer techniques including:
Diversified manual adjusting
Thompson, a low force technique
Soft tissue percussion therapy
Shoulder relief technique
Myofascial release
Certified by the American Posture Institute
Dr Pieter recently obtained certification with the American Posture Institute, giving him the necessary credentials and knowledge to effectively correct postural problems naturally through a focused, custom care plan.
In addition to adjustments, posture correction may entail specific exercises and stretches as well as rehabilitation you can do in the practice as well as in the comfort of your own home.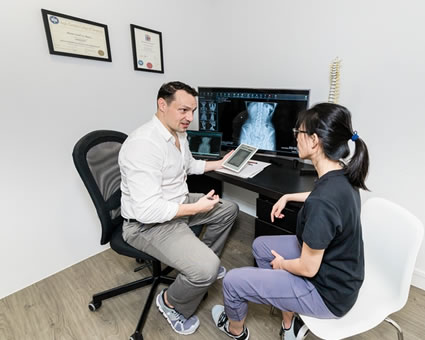 Nervous? You're in Good Hands
Dr Pieter understands the importance of helping patients relax and feel comfortable in his care. When you're with him, he'll always explain what he's about to do and ask your permission before doing so-this way, you'll be fully prepared. His techniques are always gentle and focused to what your body needs.
Discover How We Can Help
We'd love the chance to meet you and help you unlock your true health potential, naturally. To get started, contact SpinePro Chiropractic today to book a visit. We look forward to welcoming you into our care.
CONTACT US »
Chiropractic Care | +65 6816 9087