New Patients at SpinePro Chiropractic
From the moment you step foot into our practice, you'll be greeted with a friendly smile-we want you to feel like you're with a friend. Our modern, clean and high-energy practice is sure to help you put your best foot forward when it comes to getting your health under control, naturally.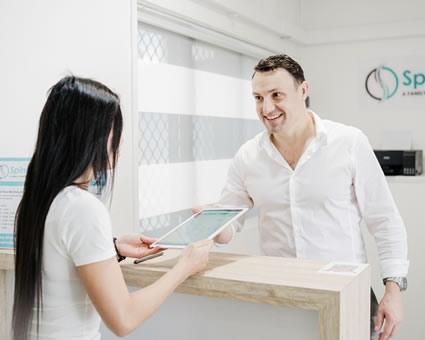 Your First Visit
At your first appointment, you'll meet with chiropractor Dr. Pieter. He'll begin by taking your health history and asking you questions to help pinpoint the issue you're experiencing. He'll also do a postural exam, and have a look at your spine "from top to bottom." His main goal is to help you get better, so he will likely refer you out for digital x-rays to get the best possible look at what's really going on in your body.
Your Second Visit
After you've completed your x-rays, Dr Pieter will review these and write up a report of findings. When you arrive, he'll go over everything in extreme detail, leaving no stone unturned. Dr Pieter will recommend the best possible care plan for your unique needs, taking a custom approach with each patient. Unlike other doctors, Dr Pieter understands that you are one of a kind, and your health should be treated as such.
If you'd like to begin your care plan on this visit, he'll perform your first adjustment. If you're nervous about having it done, he'll assure you every step of the way and will always take an extra-gentle approach while still delivering excellent results. Before you head home, he may recommend stretches or exercises to help strengthen weak areas that you can do in the comfort of your own home.
Book Your Visit Today
We'd love to welcome you into our care. If you're interested in learning more about how focused, natural chiropractic care can help you, contact us for an appointment. We can't wait to help you unlock your true health potential-naturally. Get started today. CONTACT US »
New Patients at SpinePro Chiropractic | +65 6816 9087