Normatec Compression Therapy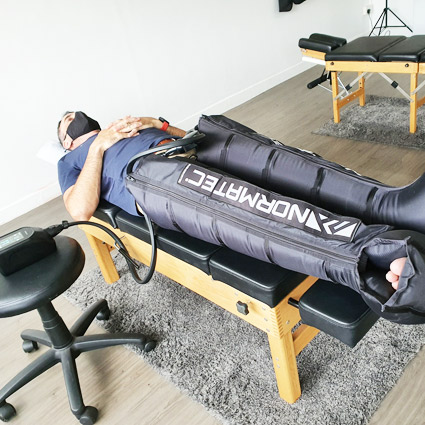 This scientifically support technology can help alleviate muscle pain after a session at the gym, a tiring work week, or a full day running errands or doing chores. It's great for athletes, busy mums, and anyone with muscle pains in their legs, hips, or arms, who needs to relax and unwind from the stress of their day. The results will amaze you.
How Does This Therapy Help Me?
Created by a MD and PhD, Normatec Compression Therapy was designed with input from top pro athletes and sports medicine professionals to address the needs of athletes. Now, active people at all levels may benefit from its science-backed restorative technology.
This therapy has been shown to increase blood flow, help maintain range of motion, decrease pain and soreness, and help with lymphatic drainage. It can be used before a workout as a warm up to increase performance, or after your activity to relax and restore tired and sore muscles.
The sleeves work somewhat like a blood pressure cuff, using intermittent compression to inflate the device and squeeze the leg, arm, or hip, reducing inflammation, and forcing an increase in blood flow, bringing healing oxygen to the area and removing any built up toxins.
Benefits and Features
This state-of-the-art therapy is based on your needs. We customise each patient's care to address rehabilitation, recovery or injury care for the leg, arm, or hip area. Our patients have experienced benefits like
Faster recovery
Reduced pain, swelling, and soreness
Better range of motion
Less muscle fatigue after exercise
Enhanced circulation
Reduced fluid build up after exercise
Treat and prevent varicose and spider veins
In addition, improved oxygen and nutrient delivery to muscles promotes healing, allowing the body to do what it's designed to do.
Normatec at SpinePro Chiropractic
At SpinePro Chiropractic, we offer this cutting-edge recovery system as part of our treatment plan. Patients can also book stand-alone sessions of the therapy. The following compression therapy options are available in three sections:
Book Your Sessions Today!
Experience the difference Normatec Compression Therapy can make in your performance and recovery. Contact us to book today!
CONTACT US »
Normatec Compression Therapy Serangoon | +65 6816 9087